Don't Replace your Bathtub, Refinish it With South Bay Refinishers!
Bathtub refinishing is a cost effective bathroom makeover alternative to replacing a bathtub that is worn out, damaged, hard to clean, or simply the wrong color.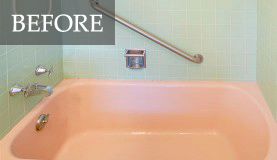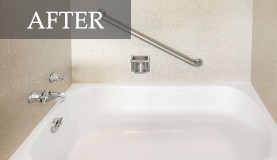 South Bay Refinishers will repair chips or cracks and restore the surface of your bathtub to look and feel like new. You'll save thousands of dollars and avoid days or even weeks of demolition mess and costly replacement.
Get a FREE Refinishing Service Estimate!
South Bay Refinishers is the county's leader for bathtub and kitchen refinishing services in San Diego neighboring cities: Carlsbad, Poway, San Marcos, Ocean Side, Orange county, Riverside and Irvine . We work with commercial and residential clients to achieve a beautiful bathroom and kitchen look.