Countertops made of tile, laminate, cultured marble and Formica can all be refinished at significant cost savings of over 80% over replacement. Through the process of refinishing, our highly skilled technicians can transform your countertops from dull, chipped, cracked or discolored to a beautiful, shiny durable finish that looks like new without the headache or hassle of replacement.
Additionally, our newly developed speckled coating gives a granite-like look that can be applied to countertops. This multi-step process includes the application of our speckled material, followed by an additional clearcoat, which protects the countertop and makes it extremely scratch resistant. We offer a wide variety of colors, include the following most popular colors, which are always in stock: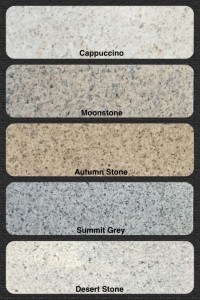 Get a FREE Refinishing Service Estimate!
South Bay Refinishers is the county's leader for bathtub and kitchen refinishing services in San Diego neighboring cities: Carlsbad, Poway, San Marcos, Ocean Side, Orange county, Riverside and Irvine . We work with commercial and residential clients to achieve a beautiful bathroom and kitchen look.